Nobody had heard of the Baby Jogger when Diane McCary had her children; in fact, not too many women were even running. But when Diane was 30, she decided to give in to the urgings of her husband, a distance runner and triathlete, and try jogging. So she packed the playpen and the kids into the car and drove down to the local track in Greeley, Colorado. "i put the playpen in the middle of the track with the kids in it and ran around the track, with them crying the whole time. I'm going around and they're following me around in their playpen, watching me, screaming their lungs out. And I said, That's it. There's no way I can do this."'
Raising a family and keeping your commitment to sports and fitness doesn't have to be the difficult ordeal it might seem. In fact, as Diane McCary later found out, it's easy to be a great mom and a great athlete at the same time. All it takes are the right priorities and a little creativity.
Far from taking mothers away from their children, sports have brought the three families profiled here closer together. The children are involved in their parents' training and have grown to love sports and fitness for themselves. Parents and children share the same activities. They also share a sense of purpose, as well as the exhilaration, challenge, accomplishment and power that comes from mastering sports.
Five years after the playpen incident, Diane's husband, Pat, gave her a pair of running shoes for Mother's Day. She ran in a local race, did well and realized she liked it. Soon she was running with her kids, then 6 and 8.
Eleven years later the family moved to Hawaii so Diane and Pat could train for the Ironman triathlon. Diane finished fifth in her division. Now the whole family not only runs triathlons together, but 20-year-old Kristen is the world's best: Last year she won her age division in the World Triathlon Championships in Avignon, France. Her brother Mike is on the swim team at the University of Nevada, Las Vegas
The road from Diane's disastrous first attempt at running to family triathlons has been long, but not hard. Wisely, the McCarys realized that a good way to get their own kids excited about running was to make sure their kids' friends were involved, too. So they formed a club, the Hillside Road Runners, and whenever the family went to a race, they'd also pack several neighborhood kids into the station wagon. They printed up T-shirts, handed out medals and sometimes even paid their neighbors' entry fees.
Diane now works out two hours every day, usually an hour in the morning and an hour in the afternoon. When she first started training, it was easy to get the time in the morning: She would run with a friend at 6 a.m., then come home and wake up her kids. In the afternoon, after work and school, she'd run again. When her kids got to be junior high school age, however, she found that working full time and math teacher, she cut back to part-time. "I made fitness a priority," she says
There are still only so many hours in a day, and something had to give. In the McCarys' case it was housework. "Sometimes I feel bad because I'm not a good housekeeper," says Diane. "But I feel that most things in my life are more important than a clean house.
"Everybody can find time to exercise," she says. "It's just a matter of priorities. You don't have to do it at the level we're doing it."
Mealtime was another adjustment the McCarys had to make. "We stopped worrying about everyone having to eat together," says Diane. "The meal is there and whoever's there will sit down to eat. For some families the dinner hour is their quality time. I didn't feel that was our quality time."
From the eighth grade on, the McCary kids were each involved in three sports at school. "They wouldn't get home' til 5:30 or 6. They'd be pretty tired and starving. They wanted dinner ready." Diane would make the meal so when the kids came home, it would be ready. She would spend 10 or 15 minutes catching up with them on how their day went and then usually head out for her evening run while the kids ate.
In 1984, the family made the decision to move to Hawaii so Diane and Pat could train for the Ironman triathlon: No small thing, because Pat had to give up his practice as a psychologist and his tenure at the local college. i want our kids to see us as two people who took some risks and had a goal-not just a material goal-and had an exciting life," says Diane. "For me, life is a collection of positive experiences, not a collection of things."
The parents' attitudes certainly rubbed off on their kids. "The best memories I have of my childhood are going to races and competing as a family," says Kristen, a student at Pepperdine University in Los Angeles.
As an adult, Kristen appreciates her athletic parents even more. "How many people do you know who go out and train with their parents? They're my best friends. They're the only people who can relate to me about my training."
But competing as a family had its drawbacks as well. If they were all in the same triathlon, that meant four bicycles to load into the car, four sets of nerves trying to get ready for a big event, "We were all stressed out at the same time," says Kristen. "My mom would take the role of being responsible for everybody else. She'd make lists. Did you remember this? Did you remember that?' That got irritating."
Kristen prefers running in lowpressure fun runs with the family, where they just have a good time without a lot of pressure. And she loves it when the family wins. "I'm so proud when I go to a race and I place and my mom places," she says. She also loves going to races to support other family members, just as they go to support her. The entire family flew to France last year to cheer Kristen on when she won the world championships. "They were my pit crew," she says proudly.
There's no doubt that the McCary family's focus on fitness has had a lasting impact on the kids. Says Kristen, I'll probably marry someone athletic and bring my kids up the same way."
If you call the home of Ruth and Skip Hamilton in Aspen, Colorado, you're likely to get an answering machine that says, "Hi, we're resolving issues right now, so we can't come to the phone " Resolving issues is a big part of the Hamilton household, which includes daughter Jenny,5, and son Simeon, 3.
One of the issues they resolve is who rides in front. Not in the family car-in the double jogging stroller. Or the two-seat bicycle cart. Or the double set of skis pulled by Ruth.
Ruth and Skip are both nationally-ranked ultramarathoners who train year round; Ruth, 33, is also a worldclass cross-country skier. She trains at least 14 hour a week-with both kids in tow. When she trains on cross-country skis, she puts downhill skis on Jenny and Simeon, connects surgical tubing from their waists to her waist, and puts them in the cross-country tracks. "I skate in the skating lane and pull them everywhere in the tracks," says Ruth. "Jenny's so good at it it's almost like waterskiing for her."
For Ruth it wasn't really a question of juggling her rigorous fitness schedule with family life: Fitness and sports are her family life. Her kids have trained with her from day zero: On the day she gave birth to Jenny, Ruth skied cross-country 10 kilometers. Three days after delivery, she skied another 10K, with the baby tucked safely in a Snuggly.
In the winter Ruth competes in the Mountain Man triathlon, a grueling combination of speed skating, snowshoeing and cross-country skiing. When Jenny was a baby, Ruth would practice speed skating while pushing the baby in a running stroller. Then she'd put on her snowshoes and put her daughter in a backpack. When Jenny got too big for that, Ruth put her in a pulk (a Norwegian sled) and pulled her along.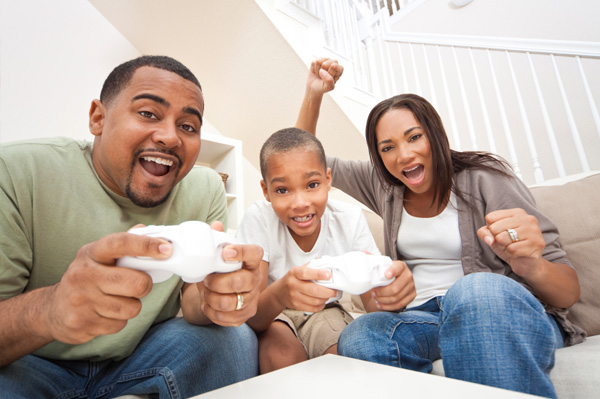 On Saturdays she does a 20- to 30-mile run with Skip; this is the one day she doesn't take the kids. She trades babysitting time with other athlete friends with kids. "I've spent a lot of time taking other mothers' children, so Jenny is around other children, but it's not daycare "
When Ruth had her first child, there was no question in her mind that being a mother was her top priority. There was also no question in her mind that she'd continue training. At two months, Jenny was in a backpack. "I was nursing, so it was very simple," says Ruth. "If she got hungry, I'd just stop wherever we were and feed her."
There's an added payoff for Ruth: "I know I'm a much better parent because I exercise every day. Exercising clears the cobwebs and makes me better able to cope with the next stuff."
Even though Ruth has been able to continue with her training, things have changed. "As a world-class athlete you're very self-centered. Everything revolves around your training. When you have children you can no longer be so selfish. For me it was a real eye-opener that I could continue my active lifestyle and still give a lot to my children and family."
A big issue for new parents is sleep deprivation-an issue that certainly came up for Ruth "As an athlete I was so convinced I had to have eight hours of sleep and I had to eat at a certain time. But as a parent there are still times when I'm up all night. I had four hours of sleep last night and I still went out and ran 8 miles today. It's not that big a deal. You catch up. I put my daughter down for a nap, then I nap for 20 minutes and that makes all the difference in the world."
if there's a drawback to exercising with the kids, it's that Ruth can't just walk out the door as she used to "If we're going for a long run and they're in the jogging stroller, they need books, peanut butter sandwiches, sun hats, the list is endless," says Ruth. "But it gets easier as the kids get older. My kids have been doing this since day one. They're into the routine, Jenny gets herself ready, puts the sunscreen on, makes the peanut butter sandwiches,"
Along the way Ruth has learned some tricks of the trade. She bought Jenny a pair of binoculars to use while she's riding in the sled or bicycle cart during long workouts. "She brings a little list of how many birds she spots during a run. She also brings a lot of books. And sometimes I can time my runs around nap time so they sleep." Jenny is now old enough to ride her own bicycle, and Ruth's latest version of the family run is pushing Simeon in the racing stroller while a bungie cord around her waist attaches her to Jenny's bike. When she comes to a hill, she pulls her daughter up the hill while pushing her son up.
Like other mothers, Ruth has had to give up some things. In her case, she found that she had little time left for reading and volunteer activities. But she's teaching her kids their place in the environment and how they can make their community a better place. And she's sharing values important to her: Love the outdoors, be healthy, eat well, have fun, play hard.
"The most important thing is to make it fun for everybody involved," she says. "Enjoy what you're doing. When the four of us train together, we're doing something we all love. And the kids pick up on the fact that Skip and I are really happy doing it. They like being a part of that."
It's hard enough to keep up with sports and fitness while raising two young children Now add getting cancer, undergoing radiation and chemotherapy, going blind-and still exercising- and you begin to get an idea of the kind of person Kris Clark is
Thirteen years ago, right before Kris was diagnosed with Hodgkin's disease at age 26, she had everything she wanted: a happy marriage, two children and a job she loved, teaching physical education and aerobic dance at Santa Rosa Junior College in Northern California.
At San Francisco State University, she had majored in physical education and competed on the school's volleyball, basketball, softball, field hockey and swimming teams. She met her husband, also a PE major, at college. When they married and started having children, they continued their active lifestyle.
After she had her first child, Brian, she would often bring him with her when she coached field hockey. While she coached, the students on the sidelines would help watch him, even give him formula or change his diapers. After work, she'd put him in a backpack and keep score at her husband's water polo games at San Francisco State. "I could take him anywhere," remembers Kris. "He was never a cling-on kid because he never had a chance to be. "
By the time Brittany was born, Kris was teaching dance aerobics at the junior college-two one-hour classes a night, back to back, with 200 students in each class. if her husband wasn't available to babysit, she'd bring both kids to the aerobics classes. "I'd put Brittany down in the infant seat, and she'd just listen to the music and watch all these people jumping around. And Brian would be zooming around the gym. " Sometimes he'd play on the side with other kids that her students brought to class. "My kids adjusted very well to the noise and loud music. They turned out okay."
But things were not okay for Kris. Six weeks after her daughter was born, Kris got devastating news: She had Hodgkin's disease, a potentially lethal form of cancer. For the next 10 months, her life increasingly became a nightmare: Test after test, daily radiation and then chemotherapy. But through it all, she continued to jog and teach aerobics.
"I hate it when people portray cancer victims as courageous and brave," she says, "They're not. They just want to survive. You fight because you don't want to die."
Five times a week, she'd pick up her kids and drive back and forth to the hospital, an hour each way, for radiation treatments. Then she'd teach aerobics at night. She explained to her students what she was going through and that the radiation would cause some side effects: sores in her mouth, trouble swallowing and hair loss. It also caused her to go into coughing fits, sometimes in the middle of aerobics class. During this period, her husband or her mother would usually take care of the kids while she taught, but sometimes she had to bring them to class.
She continued radiation treatments for six weeks, and then got worse news: The cancer had spread to her lungs and would require chemotherapy. For the next four months the chemotherapy made her lose her appetite and drop in weight from 125 to 93. But the chemotherapy gave her energy. "It made me hyped," she says. "I talked fast and had trouble sitting down. So teaching aerobics was really simple because I was so hyped up."
One morning she woke up and realized she was starting to lose vision in her left eye. A week later she was blind in that eye. She went to doctor after doctor, but they couldn't do anything. they weren't even sure if the blindness was related to the therapy. Two weeks later, she started to lose vision in her right eye, and things got really scary. "All I saw were shadows and shapes," she remembers. "I told the doctors I didn't want any more treatments. I thought 'If I'm going to be blind, I might as well be dead."'
Amazingly, she continued to teach aerobics and jog. "When the sun was out, I could see the shadows. But I ran on a track so I wouldn't get lost."
She laughs today at her attempt to lead a normal life. "I folded clothes and didn't know what I was folding. If I had to feed my daughter, I had to feel for her mouth because I couldn't see her."
Her husband responded to the trauma with black humor, pulling stunts like rearranging the furniture while she was out. Kris took it all in stride. "He would say, What's the matter? Are you blind or something? she laughs.
But soon they had news they could really smile about: After Kris stopped taking the chemotherapy against her doctor's advice, the cancer went into remission. And after months of going from doctor to doctor to uncover the cause of her vision loss, she finally found a doctor who gave her some eyedrops. Within a week, vision in her right eye had returned to 20120. The problem was a simple infection that had caused her retinas to detach. It was too late to save her left eye, however, and she remains completely blind in that eye.
The cancer has been in total remission for 12 years, and her children, now 16 and 13, have no memory of her ever being sick. What they do have memories of is growing up surrounded by sports: They have a basketball court in front of their house and the whole family plays hoops together. They have a swimming pool and a strike-out zone. They all waterski and snow ski together.
Kris's blindness in the left eye does present depth perception problems when she plays sports. "In the beginning, I'd pour something and it would end up on the table," she remembers. "Even now, it takes a few hits before I really get with the ball in softball. In basketball, I'll go for a layup and miss. My husband always plays on my left side and cries foul," she laughs.
Both kids are also great athletes. Brittany scored 57 goals one year for her soccer team in the under-10 league, an all-time record. Two years ago, she was the only girl in Novato Little League, and she had the highest batting average on her team. Brian plays baseball, basketball and football at his high school.
Kris, who just turned 40, now has an educational exercise video on the market called Body Dynamics and has written a syndicated fitness column for USA Today. She teaches physical education full-time at a San Francisco high school.
Her bout with cancer has taught her to go for what she wants, and she passes on her wisdom to her kids and her students. 'I have a poster in the gym that says, "Nothing in life is fair. Get used to it."' It's that defiant spirit that has enabled Kris Clark to achieve miracles.