Sunday morning hikes were my family's form of religion when I was growing up. Years before the fitness boom boomed, my father took us running on the local trails, my mother planned weekend bike outings and the whole family learned to ski together. Sports and fitness did more than make us healthy-it gave us something in common. During hikes and bike rides we were able to talk and share experiences, while in learning new sports and working on skills together we developed a stronger bond. Most of all, our active outings were fun. Now that we're grown we still work out and play sports together, and we're still great friends.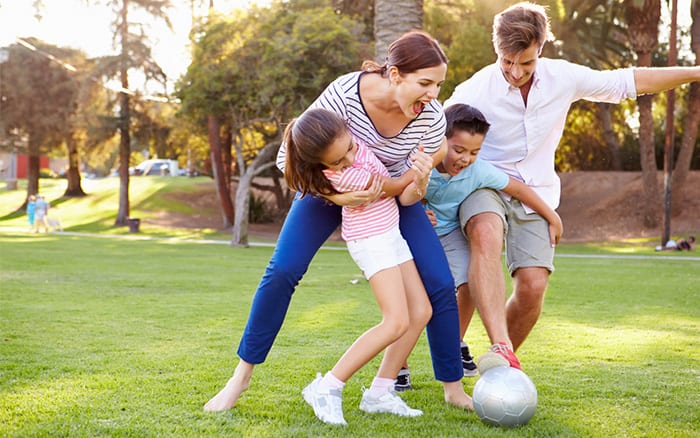 When you have children-as many of you either already have or are planning to do-your focus naturally shifts from the playing field to the playpen. But fitness and a family don't have to be mutually exclusive. If quality time is what you're looking for, there are few higher-quality experiences than hiking a mountain trail with your baby on your back or coaching your child's soccer team.
Of course, it's not always easy to make fitness a priority with your family, and so to offer inspiration, we found three families who prove that it can be done. After reading about Ruth Hamilton running uphill while pushing her son in a stroller and pulling her daughter behind her on a bike, or Kris Clark teaching two aerobics classes a night with her children crawling around on the side-all while she battled cancer-it's hard to make excuses about not being able to get to the gym.
Though their ability to juggle work, a family and training makes them sound like Superwomen, these are really just ordinary moms. They simply have shifted their priorities and adjusted their schedules to make things work. Whether they're trading babysitting time with friends, getting the children involved in their training or enlisting students on the sidelines to help watch the kids while they coach, they've come up with creative solutions to the problems every active mother faces. Look for their practical advice in "The Family That Plays Together," page 47.
It's appropriate that in this family issue we introduce the newest member of the Women's Sports & Fitness family: Associate editor Marjorie McCloy, who knows the challenges and rewards of active motherhood firsthand. She and her daughter Kelly, now 17, backpacked and skied together from the time Kelly was 5-once even camping out in Yellowstone for a month while their car was being repaired. As a ski instructor in Vermont, Margie taught until she was eight months pregnant. "I skied better than I ever had," she explains, "because my center of gravity was lower."
We're lucky to have Margie on board for our family and outdoors issue: Not only does she bring a mother's perspective to the editorial staff, Years of crisscrossing the California mountains with a pack on her back have made her an expert on the subject, and she shares her knowledge of backpacking in "Walk on the Wild Side" (page 30).
Margie considers every backpacking experience an adventure, but her ultimate hiking quest took place two years ago, when she and a friend headed off on a trek across Nepal. After reading her account of her experiences on page 36 you may be prompted to start planning your own trek.
Look for more of Margie's evocative, accessible and wise contributions in future pages.